30.04.2021
City of Espoo launches first fireproof charging cabinets for electronic bicycle batteries
First in Finland: Fireproof charging cabinet for electronic bicycle batteries at Aalto University metro station
The City of Espoo and LatausPolku Oy are launching charging cabinets for electronic bicycle batters at three major transport hubs in Espoo: A Bloc in Otaniemi, Pikkulaiva in Espoonlahti and Iso Omena in Matinkylä. Finland's first fireproof charging cabinet will be put into service in Otaniemi, Espoo, in April.
The City of Espoo has set itself the goal of achieving carbon-neutrality by 2030. Transport accounts for about one-third of Espoo's climate emissions, so we need to pull out all the stops to curb them.
"Increasing the share of cycling as a part of our daily mobility is one of the key elements of achieving carbon neutrality in transport. Electric bicycles make travelling in the city a smooth ride," says Mari Päätalo, Project Manager at the City of Espoo.
Leave your battery in a locked and fireproof charging cabinet for storage
The idea is to provide a service that allows cyclists to leave the batteries of their electric bicycles to recharge, for example, while they do their shopping or for the duration of their work day. Although batteries are thoroughly protected at the factory, there is a risk of them catching fire as they age and gain wear and tear. The charging cabinet for electric bicycle batteries currently being launched detects a potential fire and extinguishes it using a patent-pending method.
"Many housing and real estate companies have prohibited the unsupervised charging of electric bicycle batteries indoors specifically for fire safety reasons," says Mikko Pajamies, CEO of LatausPolku Oy.
The experiment aims at introducing charging cabinets for electric bicycle batteries at several transport hubs in Espoo and also in many Espoo-based workplaces. The product currently being launched is unique in terms of its technology and has excellent growth prospects world over due to the electrification of transport. The experiment also strengthens local economy as LatausPolku is an Espoo-based company.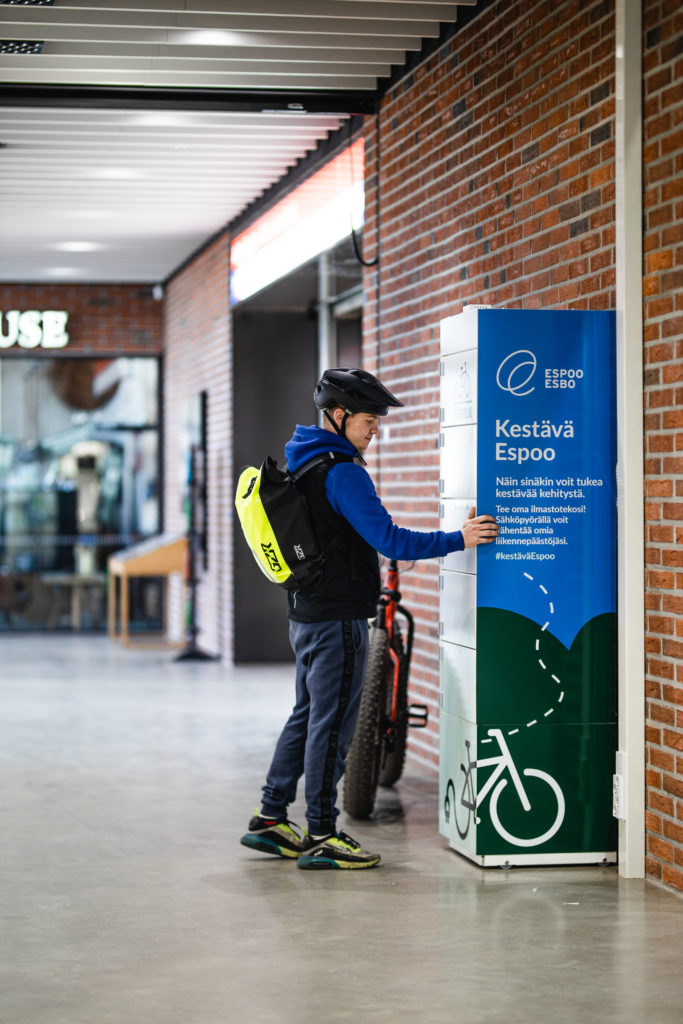 Part of the 'Low-carbon transport in mobility hubs' project
The experiment is a part of the Six City Strategy (6Aika) 'Low-carbon transport in mobility hubs' project funded by the European Regional Development Fund. Transport hubs refer to hubs where various transport services are available.
In addition to the City of Espoo, the project involves Business Tampere, the City of Oulu, Turku University of Applied Sciences and the City of Turku. The City of Espoo aims at being carbon-neutral by 2030.
Read the original publication here.