Tampereen Aluetaksi Ltd. (Taksi Tampere) – Your local taxi service
Taksi Tampere relays calls and concludes taxi service agreements in the Pirkanmaa area. We have been offering safe and high-quality taxi service since 1990. Taksi Tampere is 100% owned by shareholder cabbies. We have over 500 taxis and annually we provide more than 2 million taxi orders within Tampere and its neighboring localities.
During past few years we have put efforts developing new booking systems for customers. In 2018 we launched an application for B2C customers to make a taxi booking easy and free of charge. The app allows to pay for  ride with your phone. The application also provides a price estimate for the trip you have ordered. You can save your favourite addresses in the app, and copy an old trip to create a new one. The app tells you when your taxi will arrive, and you can  check your taxi's current location.
In 2019 we developed an application for B2B customers to make the taxi booking easy and quick.
Sustainability is one of very important values for Taksi Tampere. We have demanded EURO 6 emission level for our cars from beginning of 2018. Sustainability is a value, where we will put more effors also during next years.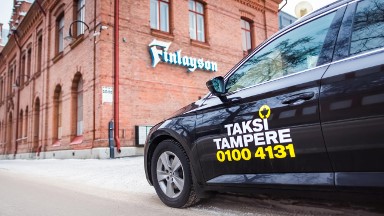 info(at)taksitampere.fi
+358 10 476 5600