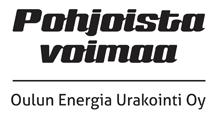 Oulun Energia – Your partner in smoother, safer and more intelligent traffic solutions
Oulun Energia's core operations cover the entire value chain of the energy industry, but as a valuable add to it, we also provide services for road traffic and intelligent transport systems.
Street and traffic light contracting is maybe the most well-known part of our services in this sector, but in recent years we have grown to one of the market leaders in Finland in construction and maintenance of road telematics.
We aim to make the everyday traffic to all road users in Finland more functional, smoother and safer. Variable warning and message signs, traffic counters and cameras are some examples of our tools in this work. We are also one of the main partners in consulting and developing the HALI system, a national traffic light pre-emption system for emergency vehicles.
alyliikenne(at)oulunenergia.fi
+358 50 560 8478
Company page in Finnish.