15.02.2023
Shifting to safer and more sustainable travel
They say a journey of a thousand miles begins with a single step.
That adage never felt more appropriate than at this year's CES. It certainly felt like I walked a thousand miles to see everything worth seeing at the world's largest consumer electronics show.
My colleague, Samuli, was delighted by the shift to sustainable technology at CES 2023. For me, the highlight was the focus on electric cars, smart mobility, and software-defined vehicles. No doubt about it, the car is now tech, and this trend is redefining the whole automotive industry.
The software-defined car is going mainstream

The shift toward software-based technology is revolutionizing the car experience for drivers and passengers alike. Just like your smartphone and computer, a software-defined car can be updated and upgraded over the air to add new features and capabilities without having to replace expensive hardware components. This development is becoming a major driver of innovation and competitive differentiation in the automotive industry.
With Vaisala Xweather, we have a clear goal. We want to help automotive innovators make every journey safer and more efficient. At CES, we showed three examples of how real-time weather data combined with reliable forecasts can improve safety, comfort, and convenience for drivers and passengers.
Supporting safer advanced driver assistance systems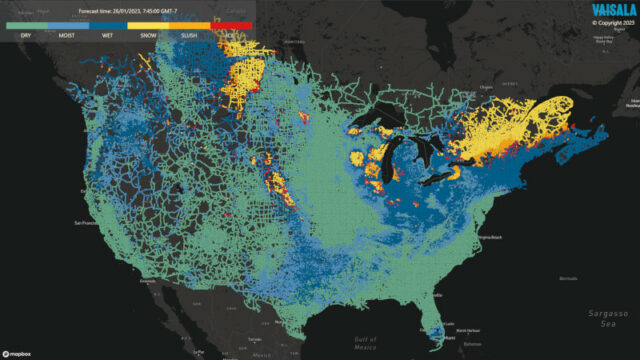 The race towards autonomous driving was on full display at CES. But there are still many challenges.
The set of conditions under which an autonomous vehicle (AV) is designed to operate safely is called the Operational Design Domain (ODD). The ODD includes information about the types of roads the AV can drive on, the speeds at which it can safely operate, the weather and lighting conditions under which it can safely navigate, and many other factors.
Vaisala Xweather is helping the automotive industry safely expand the ODD of autonomous vehicles by supplying accurate real-time road weather data.
Road weather refers to various weather conditions that can affect the safety and operation of vehicles on the road, such as rain, sleet, and snow, as well as other factors like fog and high winds. These conditions can have a significant impact on visibility, traction, and the overall stability of vehicles. In fact, the Federal Highway Administration estimates that every fifth road accident in the United States is weather-related.1
Road weather data helps reduce the risk of accidents by providing accurate real-time information about surface conditions beyond the vehicle's line of sight. Weather-aware vehicles can also use road weather forecasts to find safer, more efficient routes and reduce drive time by avoiding roads with poor driving conditions.
Vaisala is ready to take this journey with you
Vaisala Xweather road weather data is trusted by the biggest names in the automotive industry: Audi, BMW, Bosch, Hyundai, Mercedes-Benz, Porsche, Rand McNally, Skoda, TomTom, and Volkswagen. Our advanced forecast models are built upon 85 years of weather expertise and over 20 years of pioneering work with road weather. But this is just the start.
The automotive industry is on the cusp of a major shift toward the software-defined car. This shift will bring a host of new challenges and opportunities for automakers, suppliers, and consumers alike. It is an exciting time to be involved in the automotive industry, and I can't wait to see what the future holds.
Read more about Xweather automotive solutions, or contact us with your questions.

Mr. Petri Marjava 
Vaisala | Head of Automotive
Read the full blog on Vaisala's website
Image: Vaisala from the original Blog
References
1. "EV Survey Shows Range Anxiety High While Charging Costs Remain Low," Forbes, June 28, 2022